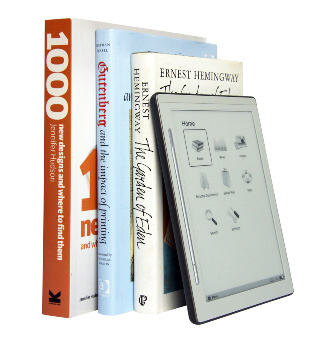 In 2009 I and another engineer worked out the plastic parts for the DR-800 e-reader to the extent that the injection molds could be made.

The product contains 10 plastic parts, which had to be developed in a very short time. When we started this, some things were not quite fixed, such as the size and the positioning of the components on the PCB. This was important to know, because the whole e-reader should not be exceeding a thickness of 14 mm. Thanks to the good cooperation and commitment of Irex these open issues became clear on time. We worked internal at the injection molding company, where these parts would be molded, this way the injection moulder contributed to getting everything ready as soon as possible.
I can still say with some pride that we have been able to finish all within 6.5 weeks.
In 2009 heb ik samen met een andere engineer de kunststof onderdelen voor de DR-800 e-reader in zover uitgewerkt, dat er spuitgietmatrijzen voor gemaakt konden worden.

Het betrof hier 10 onderdelen, die in zeer korte tijd uitgewerkt moesten zijn. Toen we hieraan begonnen lagen een aantal zaken nog niet helemaal vast, zoals bijvoorbeeld de afmetingen en waar de componenten op de PCB kwamen te zitten. Dit was wel belangrijk om te weten, omdat de gehele e-reader niet meer dan 14 mm dik mocht worden. Door de goede samenwerking en inzet van Irex zijn deze openstaande zaken toch tijdig helder geworden. Tevens zaten we intern bij de spuitgieter, waar deze onderdelen geproduceerd zouden worden, hierdoor werd ook door de spuitgieter een waardevolle bijdrage geleverd om alles zo snel mogelijk gereed te kunnen hebben.
Ik mag toch wel met enige trots zeggen dat we uiteindelijk dit in 6,5 weken voor elkaar hebben gekregen.