e-NABLE is een wereldwijde vrijwilligersorganisatie, die door middel van 3D-printen voor de ontvanger kostenloos 3D-geprintte handen en armen maken voor mensen, die een reductiedefect aan hand of arm hebben. Sinds begin 2017 is er ook in Nederland een groep vrijwilligers, die dit soort handen verzorgen. Sinds begin 2019 is het ook een stichting en binnen de stichting ben ik de secretaris en penningmeester. Tevens ben ik degene, die de vrijwilligers opleid tot kwalitatief geschikte vrijwilligers. Verder zorg ik voor de afhandeling van de aanvragen voor een e-NABLE hand. Ik ben degene, die de vrijwilligers koppelt aan degenen, die een hand willen hebben.

We kunnen dit werk doen door donaties van allerlei mensen en bedrijven, die ons een warm hart toe dragen.
Voor meer informatie stuur ik u graag door naar onze website: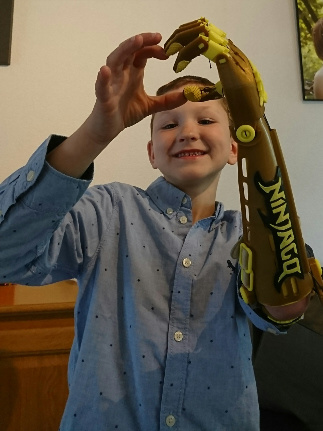 e-NABLE is a worldwide organisation of volunteers that makes with their 3D-printers hands and arms for people with reductiondefects on there hands or arms for free. SInce the beginning of 2017 there is also an e-NABLE chapter in the Netherlands, who provide e-NABLE hands. SInce the beginning of 2019 it is foundation and within this foundation I am the secretary and the treasurer. I am also the one who teaches our volunteer to be able to deliver good quality. I also do the match making between the persons who would like to have a hand and the volunteers.

We all can do this with donations we receive from caring individuals and companies.
For more information please take a look at our website: