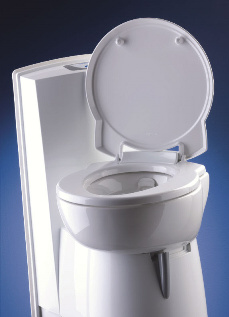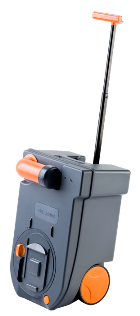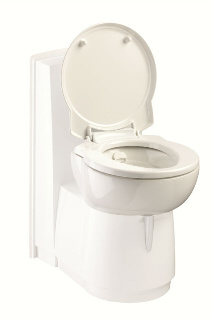 Thetford develops and assembles toilets and refrigerators for recreational vehicles.
In 2006-2007 I have worked in a team on the development of the C -250 toilet.
My work contained of:
· Setting up the assembly structure in Pro\Engineer using a skeleton part
· Working out the main shape of the toilet and the waste tank in cad
· The development of the parts that needed to be welded;

o choosing the appropriate welding technology. We did choose mirror welding, while in previous toilets everything is done by induction welding
o technical support for choosing the supplier for the welding machine
o communicate with the supplier on the technical execution of the machine
o the construction of the weld, so that this is suitable to be welded
o the testing of the welding machine and thus the welded parts
· Developing the flushing of the toilet
· The development of a ceramic toilet bowl for this model toilet, this was the first time that Thetford was going to use ceramic for the toilet bowl.
· To create rapid prototypes, create/modify test items
· Testing prototypes
· Testing and evaluation of the first parts (FOT's)
· Correcting/improving parts until they are ready to be released for production.
· Supervision of the assembling department of the toilet

Thetford ontwikkelt en assembleert o.a. toiletten en koelkasten voor in campers en caravans.
Ik heb in de periode 2006-2007 in teamverband gewerkt aan de ontwikkeling van de C-250 toilet.
Mijn werkzaamheden waren hierbij:
· het opzetten van de assembly structuur in Pro\Engineer met behulp van een skeletonpart
· het uitwerken van de hoofdvorm van de toilet en de afvaltank in cad
· het uitwerken van de te lassen onderdelen;
o kiezen van de geschiktste lastechniek, dit is spiegellassen geworden, terwijl alles bij voorgaande toiletten door middel van inductielassen gedaan wordt
o technische ondersteuning voor het kiezen van de leverancier voor de lasmachine
o contact onderhouden met de leverancier over de technische uitvoering van de machine
o het construeren van de lasnaad, zodat deze geschikt is om te lassen
o het testen van de lasmachine en de daarmee gelaste onderdelen
· het uitwerken van de spoeling van het toilet
· het ontwikkelen van een keramische toiletpot voor dit model toilet, dit was de eerste keer dat Thetford keramiek ging gebruiken voor de toiletpot.
· laten maken van rapid prototypes, zelf maken/aanpassen van test onderdelen
· het testen van prototypes
· het testen en beoordelen van de eerste onderdelen (FOT's)
· het corrigeren/verbeteren van onderdelen, totdat deze vrijgegeven kunnen worden.
· begeleiden van productie met de assemblage van deze toilet